I believe fashion is not only a form of art, but a way to express yourself without the need to speak. This is one of many reasons why I enjoy interviewing people within the fashion industry.  This past November, at Massif Fashion Week, I had the opportunity to witness the up and coming fashion designer, Ingjin San (the Fashion DJ) as her dreams were unfold as her designs debuted in their first runway show!
From the moment I saw Ingjin, she was FABULOUS! Her beautiful petite figure was wearing white, gold, and a ravishing pink faux fur coat that made me want to raid her closet!
Ingjin is one of those genuinely nice people that after having a conversation with, you leave thinking to yourself, "there's something about her that I really like."
Watching Ingjin BTS as she was setting up her designs, fitting the models, and making sure everything was perfect, you could tell that she really has an eye for detailed perfection.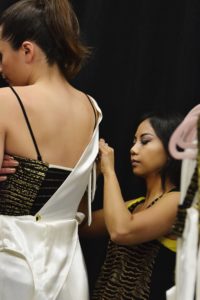 As her collection of (what seemed to me like) goddess attire, strolled down the runway, I couldn't help but realize her style is all about the golden glam.
Seeing her collection, I wanted her to be featured on the blog, so that I could share with you her collection and thought process! Read the interview below!
VL: What inspired you to become a fashion designer?
I love fashion! I noticed myself since I was a child that I always wanted to be different. I cared a lot about how I dressed even though my family couldn't afford the expensive things. I always wanted to create something unique for myself and others depending on their personality.
Now, I have been extremely blessed in my life to have the opportunity to come to the United States. Having grown up in a lower class family, in a poverty stricken country, I know that I must be here for a reason. My mother gave me everything she could & more, so to have the opportunities that I now enjoy here in the United States, I know that I need to take advantage of it. I am a little superstitious person, I believe that sometimes destiny tells you things when you need to hear them, & one day I saw a saying:
"Commitment is a line you cross… it's the difference between wishing and doing"
My entire life I had dreamed, & wished for things… wanted them to happen so badly it hurt. So when I saw this saying it struck me, that in order to follow my dreams I had to cross the line of wishing & doing. Shortly after seeing this saying, my husband & I got two fortune cookies:
"Opportunity knocks everyday – Answer it"  &  "Inspire those around you"
That same day I was contacted by Kevin Alexander at Massif Fashion Week about being a part of the show this season… so I crossed the line & I did it.
In short; I am inspired by how my mom never gave up no matter what, the American Dream, & I believe I was being told that now is the time to make my dreams a reality.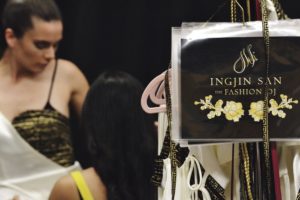 VL: Your SS18 line is so beautiful! What inspired your SS18 line? Also, what is the name of this collection?
I would call it "Fun and Functional Luxury Wear"
For this collection, I was inspired by ageless, powerful, independent women in the world. For example; Vogue Editor Anna Dello Russo, international super models Gigi & Bella Hadid, international fashion model & businesswoman Chiara Ferragni, music industry idol Lady Gaga & Nicki Minaj, & top fashion & lifestyle bloggers. Of coarse there are a lot of other women that inspire me; this is just a short list. These women have very active & busy lifestyles, so I wanted my collection to emulate that by putting the fun into functionality. They might need an elegant gown for a special occasion, but then quickly want to change to a fun & sexy dress for a less formal event; classy to sexy in seconds. I also wanted to give the feeling of an easygoing & free design that they can play around with & wear however it best fits their personality.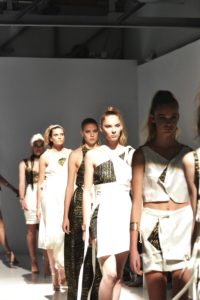 VL: What is the fabric used for the designs?
I used Luxury Brocade fabric in metallic gold and shiny satin fabric from Mood Designer Fabrics, New York.
VL: What are your social media handles and website?
Instagram: @ingjinsan
Facebook: Ingjin San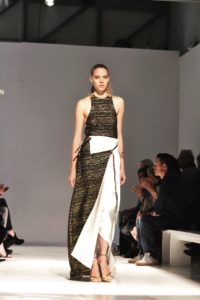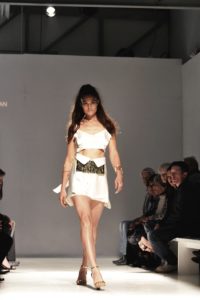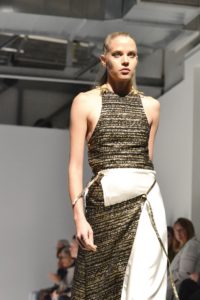 Twitter: @ingjinsan
Photos: By Liz Torres
Thank you so much for following along and meeting fashion designer Ingjin San! What an incredible woman!
Is there a woman in your life making an impact on her community? Or do you know a woman with an amazing story? I'd love to meet them! Send inquiries to vanessalandlt@gmail.com! Happy NEW YEAR 2018!
Continue Reading